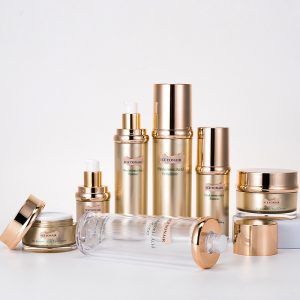 Name

Airless/Acrylic bottle
product
Cosmetic Package
Color
Customized Color
Loading Port
Shanghai
Packing
Cartons or as per client's requirements
MOQ
5000pcs
Model
RC-201B
Feature
1. Being able to use less or no chemical preservative.

2. Allow the organic and natural purpose hit home and deliver to the user.

3. The bottle does not need to be sitting upright to pump the content out. In the event of traveling or artist in the field, the content can be dispensed immediately upon removing from storage without waiting for the content to shift and settle to the bottom.

4. The content in the bottle will hold a longer shelf life when it does not come in contact with air.

5. Love the product you have, such as foundation and moisturizer, but the packaging does not come with a pump. Simply transfer the product into an airless bottle for easy dispensing application.
An airless pump bottle is a non-pressurized vacuum dispensing system that utilizes a mechanical pump in a bottle. As you push down on the pump, the disc in the bottle rises to push the product out of the pump. Once the bottle is filled, the material stored inside the bottle is preserved and maintain its integrity until used up. Airless packaging will help increase the shelf life of the final product. Using a conventional pump bottle, when the content in the bottle gets low the tube in the bottle will no longer be able to pull the products to the pump, so the common practice is to remove the pump and try to get the remaining material out with the use of a spatula type of tool. With the repeat opening of the pump and expose the content to air, some products will end up being oxidized and lose its effectiveness.