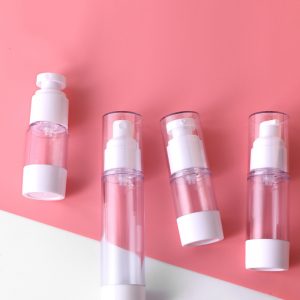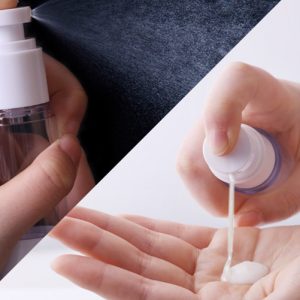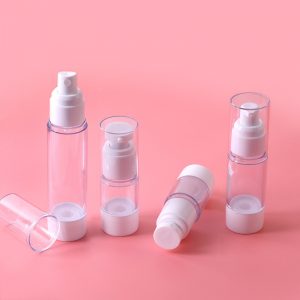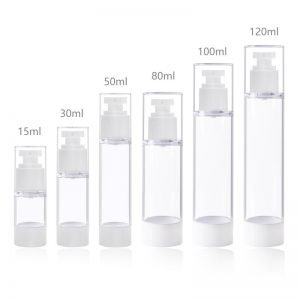 Product Details:
Product Name:
AS airless bottle
Process:
Blow molding
Material:
Airless
Color:
Transparent
Specification:
30 (g)
Place of origin:
Ningbo,China
Logo:
Customizable
Feature:
Vacuum preservation, recycling, dustproof and waterproof.
Spray/emulsion AS vacuum bottle series, vacuum preservation, recycling, dustproof and waterproof. Easy to pack, press the spray pump head, spray fine, environmentally friendly material, can be recycled. Good life, light travel, light distribution, light life. Reliable material for peace of mind, the bottle body adopts AS environmental protection material, and the pump head adopts new PP material. AS bottle cap, high permeability AS material, environmentally friendly and recyclable, PP pump head, external spring design, avoid direct contact with liquid, pollute the liquid. The vacuum plug, the vacuum plug will slowly move up with the use, one drop is not wasted.
Product details: press the spray pump head, the mist is fine, easy to operate, strict requirements, high standards, highlighting extraordinary craftsmanship. Spiral bottle mouth, good sealing, exquisite workmanship, bottom air outlet, to ensure smooth pressing, push vacuum plug. Safe and environmentally friendly design, adhere to the use of environmentally friendly materials, and resolutely refuse to recycle waste. The pressure is convenient and labor-saving, light and environmentally friendly, vacuum preservation and air isolation.
Note: Ensure that the bottom hole of the bottle is unobstructed (ie, it cannot be placed directly on the table and will block the air inlet) before filling.
How to use: Prepare the bottling bottle and unscrew the pump head to prepare the filling liquid. According to the individual requirements, put in the required liquid and gently press the pump head to come out.
Tips for bottling: Do not put beverages, petroleum, strong acids and liquids with high alcohol content to avoid deterioration of the material; please use the skin care/washing products packed in the container as soon as possible. Do not place them for more than half a year. PE/PETG products are easy to be stained with ash for a long time. They can be disinfected with water or alcohol during cleaning. Remember not to use hot water for cleaning or high temperature sterilization. If the contents are packed for a long time, it may cause deterioration or dyeing of the container.