Glass jars are incredibly versatile and can be used for various purposes when it comes to organization. They are not only functional but also aesthetically pleasing, allowing you to create a beautiful and organized space. Whether you're looking to declutter your kitchen, bathroom, office, or any other area of your home, here's the ultimate guide to organizing with glass jars:
Choose the Right Jars: Opt for glass jars in various shapes and sizes. Mason jars, apothecary jars, and canning jars are popular choices. Make sure they have secure lids to keep the contents fresh and protected.
Clean and Label: Before starting, thoroughly clean your glass jars and lids. Remove any labels or adhesive residues. Use labels or chalkboard stickers to identify the contents of each jar. This will make it easier to find what you need quickly.
Kitchen Storage:

Dry Goods: Use glass jars to store dry goods such as rice, pasta, grains, cereals, flour, and sugar. You can easily see how much you have left and ensure they stay fresh.
Spices: Store spices in small glass jars. Arrange them in a spice rack or on a shelf for easy access while cooking.
Herbs: Keep fresh herbs in water-filled glass jars, like a mini herb garden. This prolongs their life compared to storing them in the refrigerator.
Pantry Organization: Arrange glass jars filled with snacks, nuts, and dried fruits on shelves for a visually appealing and organized pantry.

Bathroom and Vanity:

Cotton Balls and Swabs: Store cotton balls and swabs in clear glass jars to add a touch of elegance to your bathroom.
Bath Salts and Scrubs: Keep bath salts, homemade scrubs, or Epsom salts in attractive glass jars to create a spa-like atmosphere.
Organize Makeup Brushes: Glass jars can keep your makeup brushes upright and organized on your vanity.

Office and Craft Room:

Pens and Markers: Sort pens, markers, and other writing utensils in glass jars for a neat and accessible arrangement.
Craft Supplies: Store small craft items like beads, buttons, and ribbons in glass jars, making it easy to find what you need during your creative projects.

Laundry Room:

Lost Socks: Keep a glass jar labeled "Lost Socks" to collect single socks in the laundry room until their matches reappear.
Detergent Pods: Store laundry detergent pods in glass jars for a stylish alternative to bulky plastic containers.

Home Decor:

Candle Holders: Place candles in large glass jars for a beautiful and safe way to enjoy candlelight.
Flower Vases: Use small glass jars as charming vases for single stem flowers or small bouquets.

Garage and Tool Organization:

Nails and Screws: Keep small hardware items like nails, screws, and nuts in glass jars, so you can quickly see and access what you need.
DIY Cleaning Solutions: Store homemade cleaning solutions, like vinegar and water mixtures, in glass jars for easy use.

Kids' Room:

Toy Storage: Glass jars can be used to organize small toys, crayons, and art supplies in a child's room or play area.

Miscellaneous:
Coins and Spare Change: Use a glass jar to collect loose change and keep it organized.
Memory Jars: Create a memory jar by collecting small mementos and notes to remember special events or trips.
Remember to be creative and tailor the organization to suit your needs and style. With glass jars, the possibilities are endless, and you can transform cluttered spaces into functional and visually appealing areas in your home.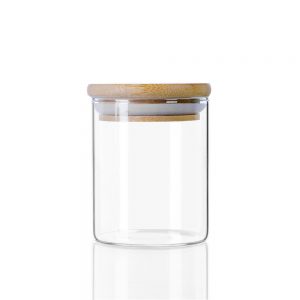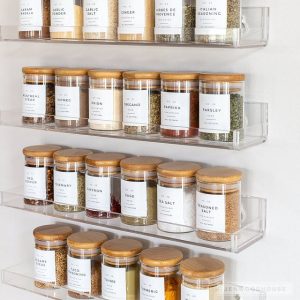 l